With legalisation continuing to sweep more US states, cannabis has become the wonder drug of choice. Coupled with its thriving popularity among both medical and recreational users, a variety of innovative and interesting products have emerged.
Today, cannabis enjoys a better legal status than it probably ever did in the last 10-15 years or so. There are so many ways THC and CBD, the two most popular cannabinoids today, can enter the body – through vaping, the skin, ingestion or smoking. The number of products that have sprung up on the market as a result are bountiful, to say the least.
However, some of these products are not as popular as, say, vaporisers or other mainstream cannabis products that everybody's heard of. So we decided to put together this article which discusses some of the lesser known cannabis products in the market and why you really should give them a try.
Before we proceed further, we just want to quickly mention that we have not endorsed any of the following products in any way, shape or form. Furthermore, cannabis isn't legal in every US state, with Canadian states and counties having their own unique set of rules for buying and consuming the herb – it is very much classified as a Schedule 1 drug by the FDA and research on its effects are still ongoing.
Therefore, the lesser known products and strains mentioned in this article are merely an acknowledgement of what we believe deserve praise and ought to be tried in states where cannabis is readily and legally available.
Without further ado:
Lesser known Cannabis Products (by product name)
1. Integra Humidity Indicators
Humidity levels, or rather the 'right' humidity levels, is something that's often on the mind of cannabis users. After all, it's a critical factor that must be taken into consideration when it comes to properly curing the plant's bud for optimal flavour, among other things.
The Integra humidity indicating cards will help you do away with all the guesswork. Simply place a card into each one of your curing jars and wait a while. The measuring range varies between 50-70% RH (relative humidity), and in order to read the cards, all you have to do is check the colour of the developing spots on each one. These will change from blue to pink based on the relative humidity within each jar.
Each pack contains 10 humidity reading cards. A pretty nifty product for anyone who enjoys curing their own buds at home, we believe.
2. Stink Sack
Are you worried about people discovering 'that smell' on you? Who isn't, right?
Stink Sack is a great way to keep that cannabis smell locked in and not have it find its way into your pockets, purse, hair or clothes. It features a revisited design from the previous variant, offering marijuana smokers an excellent smell-proof bag, which we believe is currently one of the best-quality ones on the market.
The Stink Sack bag stands out in a number of ways from regular cannabis smell-masking bags. For instance, it contains a very powerful moisture and odour barrier. It's also tear-proof and made from best-in-class food-safe ingredients.
Every pack has 10 bags which can accommodate 3.5g of herb, with a cool-looking dollar sign on the front and back.
3. Avert Odour-proof Pocket Bag
Here's another lesser known cannabis product to help you mask that smell, but this one is made from activated carbon to absorb your strain's smell into oblivion before it even gets a chance to reach your clothes or the air around it.
The bags are very small but also extremely durable, helping you take your stash with you wherever you want. Apart from the carbon-lined flap, there are a handful of other useful features as well – such as an industrial-grade Velcro seal, a small magnet on the back which improves stealth and a 600d polyester/PVC waterproof outer material.
Each bag is capable of holding anywhere between 3.5g and 7g depending on how dense your stash is.
4. Hengstenberg Safe Can
To be frank, what you may consider 'safe' may not be the safest place to store your stuff at home. And you may have a number of reasons to hide it – perhaps from nosy roommates, children or anyone in the family who doesn't take a liking toward cannabis.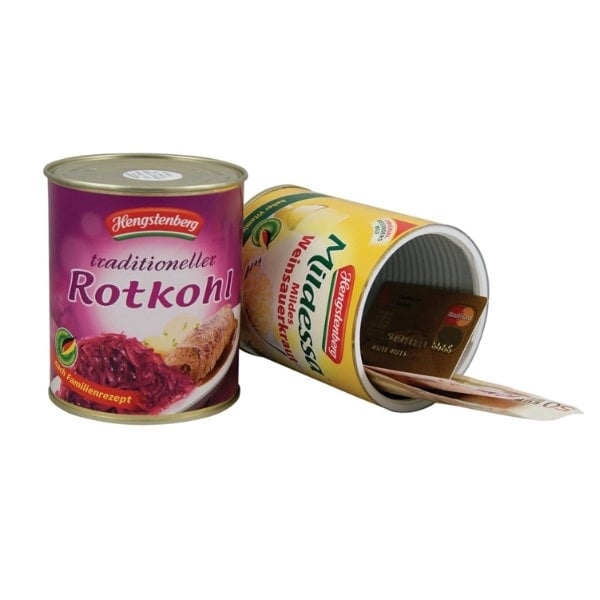 The Hengstenberg Safe Cans not only offer a very discreet way of hiding your stash but can also be hidden in your kitchen cabinet and other similar places. They've been purposely made out of real, reused cans from the well-known German brand which is famous for making red cabbage as well as pickled sauerkraut and cucumbers.
We feel these are an excellent option for tucking away your stash without anyone ever having a clue what's inside them. They're really covert and easy to use and are not only ideal for cannabis safekeeping but also money, jewellery and other small items of interest.
5. 00 Pocket Box
As you're probably aware, great cannabis flavour always begins with a proper curing process and ends with how it is stored – both aspects can either make or break the overall experience.
The RQS 00 Curing Pocket Box helps you perfectly store your cannabis while it cures – ensuring that your bud develops properly and maintains its intended flavour. Going by the product's name, it's very discreet and can be easily fitted into one of your pockets or even a small purse.
Handmade in Spain from warm-toned cedar wood, it features an interesting slide-out lid that's securely held in place by magnets. There's even a shake tray at the base to help you catch all that trichome-rich kief. A lesser known cannabis product that you should definitely have in your arsenal!
Lesser known Cannabis Products (by Strain)
6. Bay Dream
Bay Dream is a very uplifting Sativa strain with subtle earthy and sharp citrusy notes. However, it's often under-rated and lesser-known because of its polarising parent strain, Blue Dream.
The moment you smoke Bay Dream, you'll understand why it's not as well known – it trades off some of Blue Dream's traditional fruity notes for a deeper, more dramatic Kush-like palate of flavours. So if you've ever felt that Blue Dream is a bit overrated, give its lesser known 'child strain' a try. You may be amazed by how uniquely individual its characteristics are.
7. Dr. Greenthumb's Em-Dog
The feminised strain is slightly Sativa dominant with a sativa-indica ratio of 60:40. Originally produced by cross-breeding Chemdawg #4 and OG Kush strain, the potent and euphoric Em-Dog is very easy to grow and when all is said and done, you can expect a 450-500/m2 indoor grow with even more when grown outdoors.
It's a lesser known strain that you must try as it yields very high amounts of thick and compact buds, all covered with more than ample resin. The flavour and aroma are intense, with hints of pine wood, exotic wood, lemon and tropical fruit – offering a balanced and prolonged cerebral high.
8. Apple Jack
Apple Jack is another lesser known strain, blending two very well-known cuts together – White Widow and Jack Herer.
The clear-headed high it offers is perfect for boosting creativity, elevating thoughts and relieving stress. The reasonable amounts of THC make it ideal for consumers accustomed to all kinds of THC levels. Despite the fact that the flavour doesn't quite live up to the strain's name, it's sweet and earthy terpenes offer a multitude of interesting flavours nevertheless, alongside a very productive buzz.
Lesser known Cannabis Products (by product type)
9. Cannabis-infused Chocolates
Edibles are undeniably a very popular way of not just enjoying a euphoric high but also reaping some of marijuana's therapeutic benefits. At times, they even offer more potency than other methods and allow you to snack on them without any worries where the herb is legal.
Chocolates infused with cannabis have not exactly caught on the way pot cookies or weed brownies have, but they are still worth trying – especially if you prefer to consume your cannabis in a more discreet and refined manner, as opposed to outright smoking it.
Cannabis chocolates by Défoncé or Kiva, for example, feature an elegant design and let you get high while indulging in your favourite sweet treat. At the moment, Défoncé is only available in California, but with more states become legal, the brand along with others should be available in dispensaries nationwide and beyond.
10. Cannabis-infused Doggie Treats
You're probably wondering: is it even safe to give cannabis in any form to your beloved pets? Well, for starters, it's never a good idea to feed your pets the same pot cookies or brownies that you're having. With that said, there are a few companies that are now making hemp and CBD-based treats for pets. With little to no THC present, you'll never have to worry about your pet feeling out of it or anything like that.
Stories of pets getting treated for a variety of conditions such as stress, anxiety or eating and sleeping disorders through cannabis treats are anecdotal at the moment though.
Related Post
Related Post
References
Cultivation information, and media is given for those of our clients who live in countries where cannabis cultivation is decriminalised or legal, or to those that operate within a licensed model. We encourage all readers to be aware of their local laws and to ensure they do not break them.